<!div id="contentCol">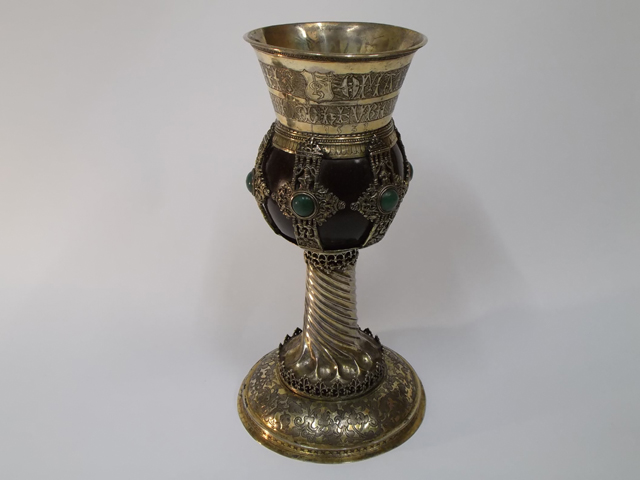 Click to hide image
Coconut cup
silver-gilt, coconut, chrysoprase
c. 1470 - 1500 with later additions
29.7 cm height
Date: 1531 (possibly added later)
Inscription/Mark: OMATER DEI MEMENTO MEI HEVRICUS GEOSE MEFIEFECIT ANNO DO and on a line below 1531. Also, in a shield, a monogram, perhaps FG in the upper band of the inscription. (engraved on the rim)
Maker's Mark: a shield with a monogram (perhaps a merchants marks) (engraved on the rim)
Provenance:
Place of Creation: England, with later additions
WA2013.1.15
The cup is made in four sections. The upper part, flaring to the rim is silver-gilt. The main section is formed of a coconut cup, mounted in silver and silver-gilt; six identical cast straps, each contains a green stone, identified as chrysoprase; above the stone is God the Father, supporting the crucified Christ, below are two male figures in clerical or academic dress, the left hand one holding what looks like a baby. The stem is spirally fluted with crowns above and below; it is joined to the part above by a three-lug bayonet fitting. The spreading foot, silver-gilt, is flat-chased with renaissance foliage and joined to the stem by a series of lap-joints.
Literature:
Bequeathed by Michael Wellby, 2012.
Other Images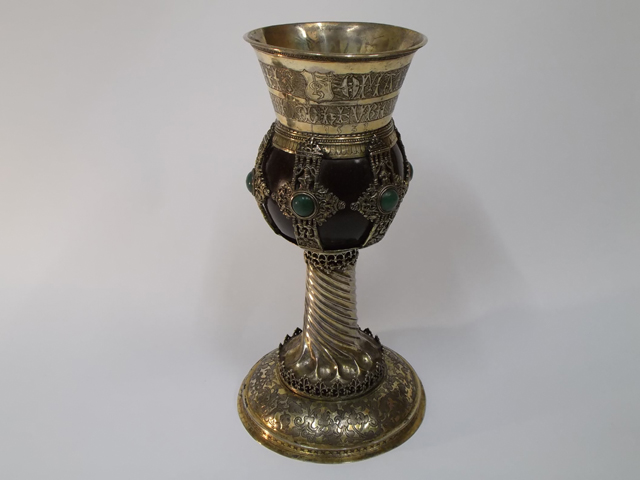 Click to hide image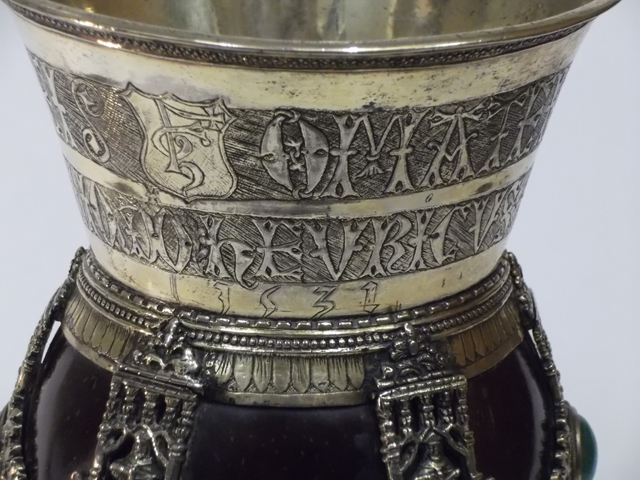 Click to hide image