<!div id="contentCol">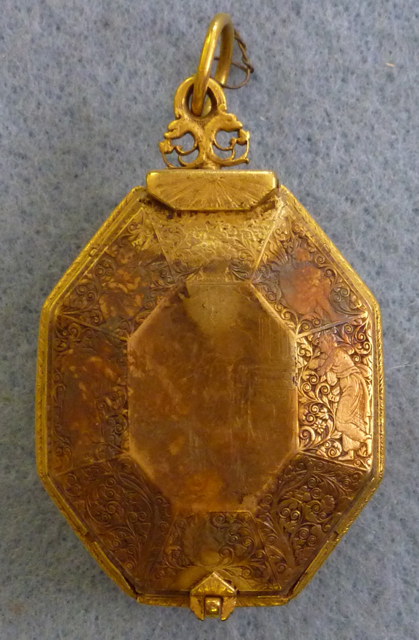 Click to hide image
Abraham Cusin (active 1593)
Elongated octagonal gilt-brass cased verge clock-watch
Movement: Ab, Cusin Neuers, c. 1615 - 1620
case; gilt-brass
case 75 mm length case 47.9 mm width case 30.9 mm thickness movement 44.1 mm length movement 35.9 mm width pillar 12.25 mm height
Case: Elongated octagonal gilt-brass case with integral back and hinged cover. In the central panels on the cover and back are engraved depictions of Medicine and Astronomy (after Callot), each surrounded by eight smaller facets decorated with foliate scrolls and animals. The gilt-brass pendant is in the form of grotesques with a loose ring. There is also a very small button finial. Dial: Octagonal gilt-brass dial plate engraved with foliate scrolls and grotesques. In the centre a silver dial has an engraved chapter-ring with hours I-XII and foliate half hour marks around a double circle with dots at the hours. The central area is engraved with a pastoral scene. The inside face of the dial plate is engraved with gadroon decoration to surround the movement. Gilt hand with long tail. Movement: Oval gilt-brass plates with four baluster pillars. The going train barrel is a later replacement and the original ratchet and click set-up is broken and missing, only the brass wheel and part of the click remains. The fusee, chain and stop-work may also be later replacement. Three wheel train of gilt-brass wheels, the great wheel not original. Verge escapement, all the components replaced. The balance spring, geared regulator and balance cock are all part of a later modernisation of the watch. The striking train, for hours, is powered by a fixed gilt-brass barrel pierced and engraved on the visible side with foliate scrolls. There is geared stop-work on the back plate under a pierced foliate cover. Six wheel train of solid wheels, the last a weighted pinion. Warned release, the locking and warning on the third wheel, the hammer lifting pins on the second wheel. Silver count-wheel for hours I-XII mounted on the back plate under a pierced and engraved foliate cover. Striking on a bell housed in the back of the case. This oval bell may not be original, as it has the scratched inscription `Higgens London' on the back and fits very badly over the central square. Movement signed: Ab Cusin Neuers Abraham Cusin; in 1593 he made the town clock in Nevers and there are records relating to his repairs of the clock in the period 1599-1621.
Mrs Colville Hyde (who lent it to the London Museum)
Sotheby's
Traditionally said to have been given by Queen Henrietta to Charles I
Bequeathed by J. Francis Mallett, 1947.
WA1947.191.33
Other Images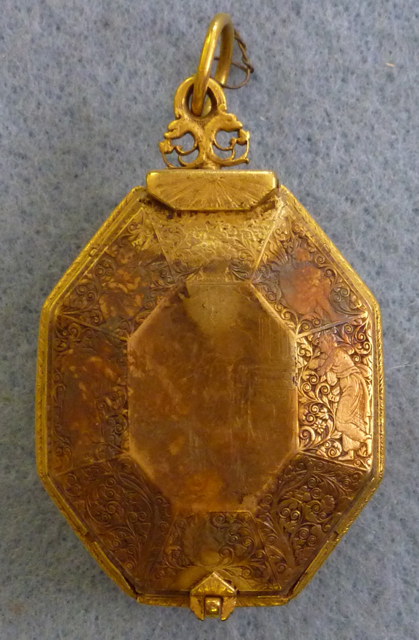 Click to hide image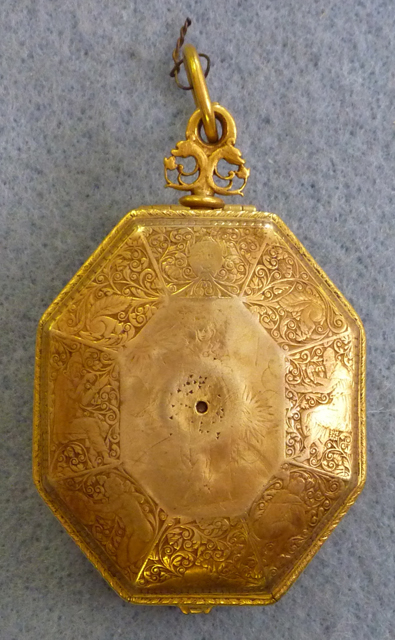 Click to hide image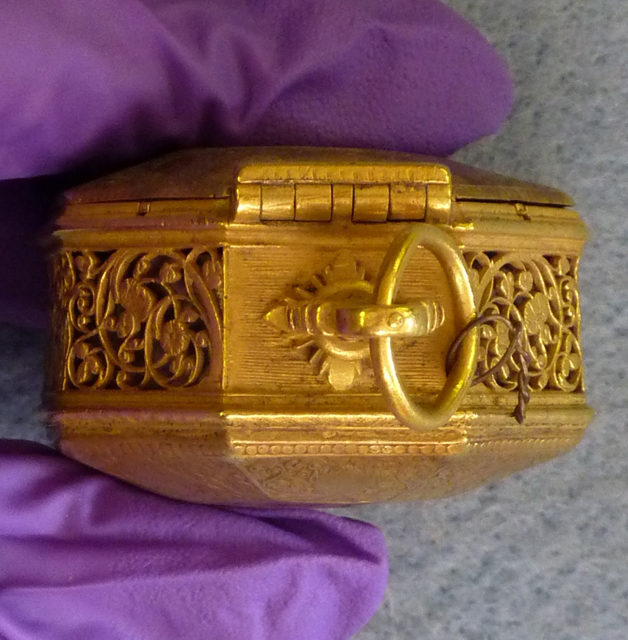 Click to hide image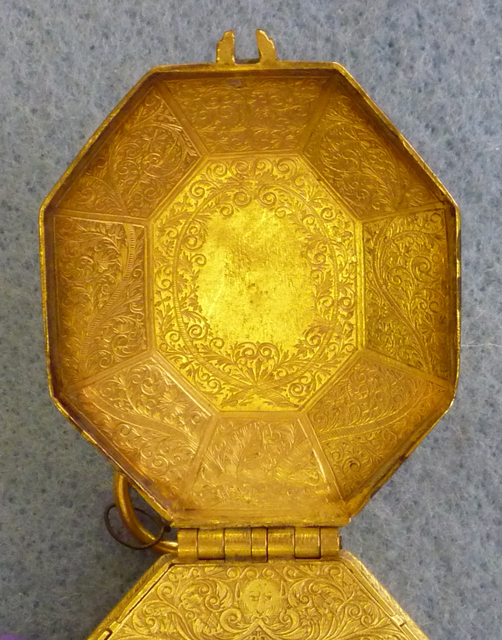 Click to hide image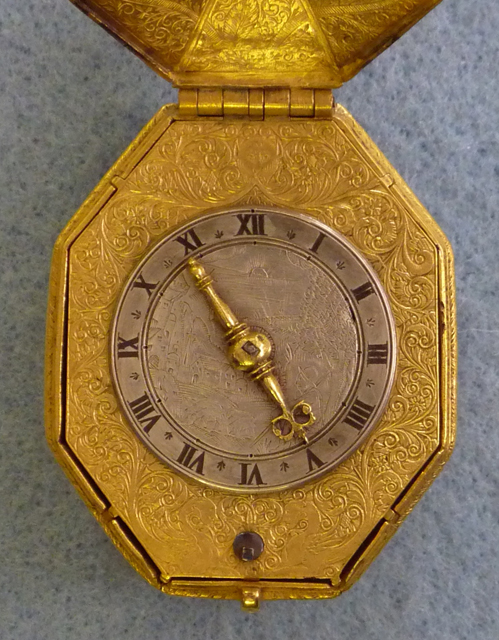 Click to hide image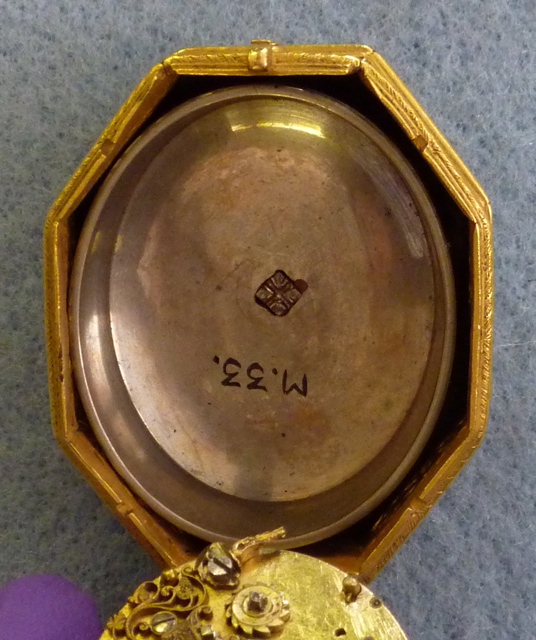 Click to hide image
Click to hide image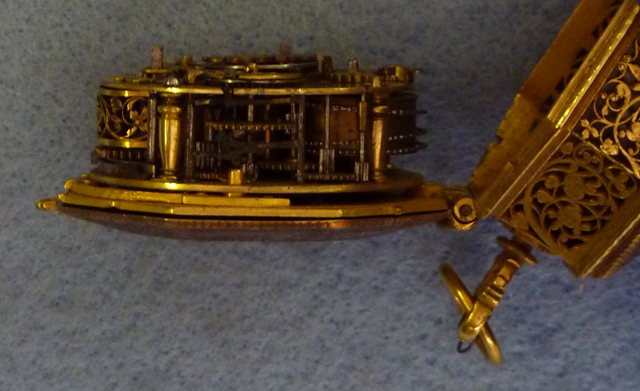 Click to hide image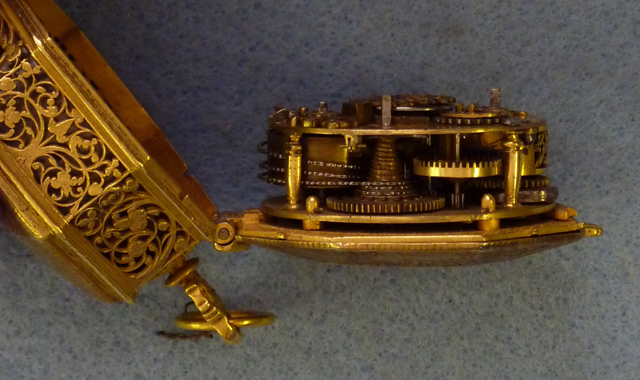 Click to hide image
Click to hide image